2018 Fangaea Guests of Honor
2018 Fangaea Guest of Honor – Derek Stephen Prince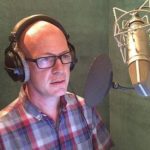 Derek Stephen Prince, aka Steve, has been in the voiceover industry 23 years. His career spans across such shows as Power Rangers Turbo, Power Rangers In Space, Power Rangers Lost Galaxy, Power Rangers Time Force & Power Rangers Wild Force; Digimon: Seasons 1-4 & 6-7 playing such favorites as Digimon Emperor, Veemon, Beelzamon, Impmon, Piedmon and most recently Jeremy, to name a few; Love, Hina where he played Keitaro; Bleach, where he played Uryu Ishida; and Naruto, where he STILL plays Shino Aburame (my God, does this show not end???); and Guts the pug in Kill La Kill.
Video games include the Kingdom Hearts series as Vexen; Odin Sphere as Oswald; Operation Darkness as Adolf Hitler and Jack the Ripper; and Kokichi Ouma in Dangan Rompa 3.
"Steve" was in the original cartoon series of Lilo & Stich as Loki the shaved ice vendor; Little, Big, Awesome for Amazon; NFL Rush Zone – Guardians Unleashed as Jackson; the film Jungle Shuffle with Rob Schneider and Drake Bell as Louca the toucan; and the film Bling where he played the ring vendor, opposite Taylor Kitsch. Both movies are available through Amazon Prime.
You can currently see him on Cartoon Network as Iggy the Boston Terrier in Jojo's Bizarre Adventures – Stardust Crusaders. This year, celebrate with Steve as Cowboy Bebop celebrates its 20th Anniversary. Steve played Lin, for those of you who remember the show. Steve has a LOT of things in store for you with his panels, and can't wait to see all of you at Fangaea!
Follow Steve at:
Steve be hosting our Opening Ceremony and will be featured in the following panels:
2018 Fangaea Guest of Honor – Joe Ochman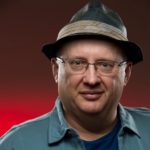 Connecticut native Joe Ochman has acted professionally in films, television, stage, commercials, video games, animation, anime and recorded books for almost forty years. For a TV-addicted, movie-cartoon-avid-reading-comic-book-sci-fi freak, it's been the perfect way to make a living.
Joe's voice has been heard in diverse roles all over the anime universe, in shows like Naruto, Marvel's Blade, Transformers: Robots in Disguise, Digimon, Gundam Origins, JoJos Bizarre Adventure, Hunter x Hunter, Twin Star Exorcists, Duel Masters, Wolf's Rain, Cowboy Bebop, Mon Colle Knights, Shinzo, and many, many more.  In animated TV, Joe recurs as Mayor Billington on Disney Junior's Doc McStuffins, and as Mayor Bourgeois (Chloe's father) on Miraculous: Tales of Ladybug and Cat Noir.
In the gaming world, Joe most recently worked on World of Warcraft: Battle For Azeroth. He voiced (another!) Chloe's father, William Price in Life Is Strange, and voiced (and motion-captured) Professor Harold MacDougall in Red Dead Redemption and its Undead Nightmare DLC. He also voiced roles in Fallout 4, Dishonored 2, World of Final Fantasy, Kingdom Hearts HD 2.5 Remix, Call of Duty: Advanced Warfare, The Evil Within, Murdered: Soul Sacrifice, Lichdom: Battlemage, Diablo III, Command & Conquer 4 and many more. He has several huge upcoming titles he's not allowed to reveal… at pain of death.
On camera on TV, he guest starred on Disney Channel's Best Friends Whenever, Bones on Fox, Showtime's House of Lies and Weeds, and Criminal Minds: Suspect Behavior for CBS. Joe recurred as a guest star on CSI and Sleeper Cell. He has shown up on Buffy the Vampire Slayer, Lois & Clark, Seinfeld, Will & Grace, House, West Wing, NYPD Blue, Desperate Housewives, That's My Bush and many others.
In film, he has worked on Blumhouse's Truth Or Dare and The Purge:Anarchy, Never Been Kissed, Space Jam, Officer Down and a bunch of indie films: Saving Lincoln, House of the Rising Sun, Black And Blue, Dead Game and Donald And Dot Clock Found Dead In Their Home, among others. In animated film, he appeared in the Oscar-nominated Ernest & Celestine, the National Film Award winning Delhi Safari and the Annie and Cesar Award winning Zarafa.
The stage has always been Joe's first love, though, and he has fulfilled that romance in dozens of plays. He also writes for film and TV, coaches acting to an eclectic celebrity clientele (including Guardians Of The Galaxy's Dave Bautista and rock legend Alan Parsons), and is an award winning stage director.  Learn more at www.joeochman.com
Follow Joe at:
Panel:
2018 Guests and Panelists
4DSci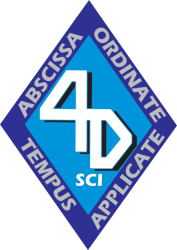 4DSci is 3D Visualization done over time. The ability to explore locations, events, data, or concepts in what was, till now, only a dream. 4DSci was developed for the sole purpose of bringing Virtual Reality to education, bridging the gap between textbook and reality. Our goal is to ensure 4D education becomes accessible to all. Through technical services, software, hardware, and consulting, 4DSci brings content standards to life for students.
Take your students back to Medieval Europe, inside a plant cell, or to see the pyramids! 4DSci develops the tools, technology, and systems to take students on an educational adventure without having to leave their seat. Learn more at www.4dsci.com
Follow 4DSci at:
Find them at Fangaea in:
RD Alba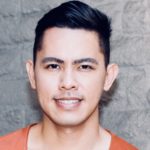 R. D. Alba is a film and television director born in Cebu, Philippines. He studied drama at Jacksonville State University in Alabama and moved to Los Angeles to study film directing at the Los Angeles Film School in Hollywood, California. At age 23, Alba became the youngest filmmaker to direct 175 episodes of a serial drama TV series on ABS-CBN Regional Network, titled Kapalaran. He then produced the award-winning Panaghoy sa Suba, directed by Cesar Montano.
He directed a remake of the popular sitcom Milyonaryong Mini on ABS-CBN for 60 episodes. In 2011, he directed Biktima, starring Angel Aquino and Cesar Montano. Alba also directed a talk show on TFC (The Filipino Channel) titled RSVP, with Giselle Tongi and Dr. Tess Mauricio,  which aired on GMA Pinoy TV.
Panel:
Tara Madison Avery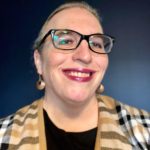 Tara Madison Avery is a cartoonist, illustrator, the publisher of Stacked Deck Press, and a board member of Prism Comics. Her webcomics Dirtheads and Gooch gained her a following for their trans and bi content.
In recent years, Avery's short stories have appeared in books such as Anything that Loves and Death Saves, as well as in her own publications. Her current project is Merrier, a satirical look at the intersecting trans, bi, and polyamorous communities of Los Angeles.
Follow Tara at:
Panel:
Sy Calac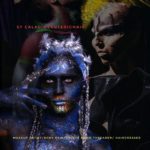 Sy Calac's noted and highly acclaimed work has graced the covers and pages of numerous high profile publications. In 2009 his work was featured in Peoples Magazine, Iona Magazine, Beauty Times and Vogue Magazine. Sy's creations can also be seen in various advertisement campaigns including: Paul Mitchell, Calvin Klein, Macy's and Mac Cosmetics, just to name a few. Sy's fascination for the arts as noted and famed make-up and hair artist grew even more, which later lead to his love for being behind the camera lens and gaining extensive training as a photographer. In 2015 became a Makeup and instructor himself at Maquillage Makeup academy himself and has been with them to this day.
California Native American  of the LUISENO NATION's tribe and internationally acclaimed Artist Sy Calac, his mega Versatility has helped him create a multitude of looks using hair, makeup, body paint and photography. Sy is an avid supporter of the arts community and strives to create greatness in the world and give back to his own community "as a reminder of who I am and how far I have come as an individual."
Follow Sy at:
Panel:
Gillian Cameron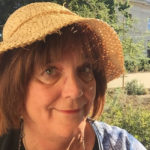 Gillian Cameron, has recently retired from a 36-year career as a high school English and film teacher. This has allowed her to pursue her first love of acting. Gillian is also a storyteller, folksinger, writer, filmmaker, and cartoonist (Stacked Deck Press has just published the third volume of her graphic novel Calogrenant).
She lives with her cat and books in Southern California and is immensely proud of her two daughters. She is also, incidentally, transgender.
Follow Gillian at:
Panel:
John Canham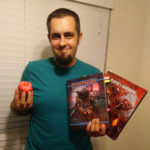 John Canham has been playing RPGs of various stripes for over twenty years, spending most of his time behind the screen. Once called a great GM and infuriating player by a close friend, he accepts that he's never been so accurately assessed. John is the GM, editor, and producer of the Die by the Dice podcast, now solidly in its second season, and having an absolute blast with it.
His other interests include games of basically all types, board, video, and card, with Magic the Gathering holding a lofty place is his heart.
Follow John at Die by the Dice:
Panel:
Steven Chung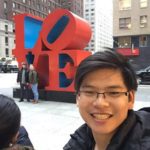 Steven is an avid connoisseur of everything Gundam and Dragon Ball related. As the godfather of San Diego Gunpla, he has created multiple avenues for people of common interests to meet and connect. Card games and excel spreadsheets are a definite weakness alongside his strong addiction to youtube and different varieties of music.
Panel:
Amadallis Cosplay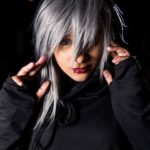 Lushray is a socal based cosplayer who specializes in prop and armor. She is most commonly known for her cosplays of Ahsoka Tano from Star Wars, Karma The Enlightened One from League of Legends, Ororo Munroe AKA Storm the X-Men and Sombra from Overwatch.
She has been cosplaying since the age of 9 and plans to continue for many years to come.
Follow Amadallis Cosplay at:
Panel:
Cyriichii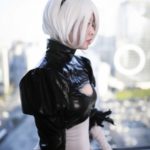 Cyriichii is a Southern California based cosplayer whose specialty is composite editing. Having started at university as a Studio Arts major, cosplay has always been her go-to inspiration. The vast world of designs to color range has been her muse for the years she's been in the community. Her early roots from Triton Gaming and her experiences there have made her what you see as…a great cosplayer with the personality of a meme.
Follow Cyriichii at:
Room and Judge:
Khoi Dao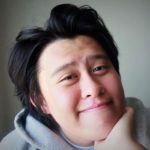 Khoi is a voice actor for anime and video games. His anime roles include "Rei Kiriyama" in the English dub of March Comes In Like A Lion, as well as "Chaka" in Jojo's Bizarre Adventure: Stardust Crusaders. You may also have heard him in a handful of Netflix original anime series, like B: The Beginning (as Brian Brandon), Fate/Apocrypha (as Flat Escardos).
His video game roles include the main human character, Tim Goodman, in Pokémon's Detective Pikachu, and the player character, Jack, in Mary Skelter: Nightmares. In his spare time, Khoi likes hanging out with his cats, and wishes they liked hanging out with him, too.
Follow Khoi at:
Panel:
Andi Dukleth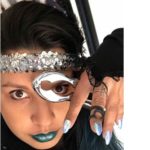 Andi Dukleth majored in Art and Technology from California State University San Marcos. Born and raised in San Diego County, she works as a news photographer for ABC 10 San Diego and as a freelance comic book artist.
She was heavily infuenced by Manga and Anime, namely by Hayao Miyazaki, Junji Ito, and CLAMP.  See more about Andi at www.deviantart.com/andi-the-duke
Follow Andi at:
Panel:
Rebecca and Matthew Eusey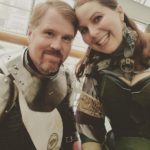 Rebecca and Matthew Eusey have been semi-professionally costuming across many genres for nearly 20 years. Matt and Rebecca helped co-found the Society for Creative Anachronism chapter in the country of Iceland. They have been panelists at SDCC, Wondercon and across the southwest. They are often found teaching sewing and leatherwork at their home in Chula Vista, CA.
The cosplay and geek culture home for Matt and Rebecca Eusey is BexandRedCosplay. Rebecca is a Royal Guard in the 501st, and has led workshops on persona development, creating costumes on a budget, multicultural steampunk and couples cosplay. Matt has been recognized for his ability to clearly explain complex topics. He's a leatherworker, painter, and nerf gun modifier.
Follow Rebecca and Matthew at:
Panel:
Zach Forsythe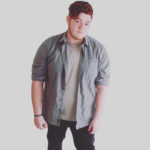 Zach Forsythe is an actor and avid gamer.
He has worked with some of the biggest actors in the industry and played Overwatch with the biggest players.
Zach looks forward to seeing everyone at the Con!
Panel:
Nicole Gose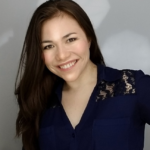 Born and raised in Honolulu, Hawai'i, Nicole Gose has quite the colorful career history! From building puppets and puppeteering to scoring music for commercials and writing/singing jingles for the radio to voicing characters in videogames, anime, animated webseries, commercials, and audiobooks.
Nicole mainly works in commercials and audiobooks with some of her recent clients including Google, Reading Rainbow, Natrol, Wonderful Almonds, and Hawaiian Airlines. She also voices Pele, the Hawaiian goddess of fire in Smite, along with characters in other videogames such as Heroes of Newerth and Seven Knights; and in anime such as One Punch Man and Sword Art Online.
Panel:
Joon S. Han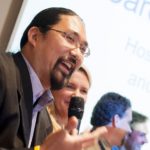 Leading strategist Joon S. Han is the author and TEDx speaker of "Get Ahead by Giving Back" and he gets to interact with thousands of entrepreneurs a year through workshops, conferences, podcasts and mentoring relationships; helping smart business owners grow from being busy to very effective. His passion is to help at least ten thousand entrepreneurs a year to change the world with their accelerated success.
Joon's newest company is AwesomeGuests.com and he enjoys the magicianship of Penn and Teller™ and his pet peeves are when people say, "could care less" instead of "couldn't" and when someone speaks on leadership when they've never led anything in their life.
He's a proud Slytherin and thanks the gods old and new, that Marvel will finally bring the X-Men into the MCU so that his kids don't think they suck anymore.
Connect with Joon at:
Panel:
Keithan Jones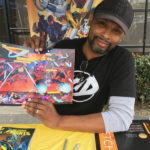 Keithan Jones is the founder and owner of KID comics, a comic book and multi-media publisher based in San Diego, California. The mantra and philosophy behind KID is, "The Kid In You Never Dies," as a constant reminder that our childhood spirit is the core of who we really are no matter how old we get.
Jones was introduced to comics in the late 1970's by way of his late step-father, who as a young Navy officer would read them as a way to bide time on long deployments overseas. He became a collector, which eventually launched him into comic fandom and ultimately his career.
From his first exposure to comics in the 1970's leading up to current times, the sight of a black character in a comic book still strikes as a novelty. Jones wanted to change this accepted normality and start injecting new characters in comics culture that were not just black or ethnic, but also the hero of the stories without an asterisk. Thus the creation of his company, KID comics and his first publication, The Power Knights.
Follow Keithan at:
Panel:
Paul Jung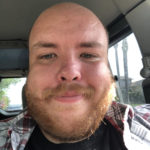 Paul Jung is the owner of a LAN center, the GameSync Center in Clairemont Mesa, San Diego, as well as a traveling musician.
His travels mean he's had to try many different types of video games to stay connected to the industry but for the most part he's enjoyed them all.
Panel:
Satoko Kakihara
Satoko teaches and researches about Japanese literature and culture, most recently publishing on anime and manga (old and new). Her research focuses on issues of gender and racial representation in Japanese texts, especially given their popularity outside of Japan. Nowadays she watches a whole lot of anime and calls it work.
Panel:
The Kingdom of Terre Neuve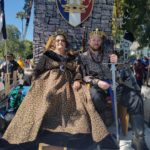 The Sovereign Kingdom of Terre Neuve is a subdivision of The Adrian Empire, which covers primarily southern San Diego County and Imperial County, CA. The Adrian Empire is an international organization with chapters throughout the United States and Canada, including some U.S. military bases.
They are a non-profit, educational organization dedicated to the study, recreation, and teaching of the period of Western European culture between 793 and 1652. This includes going to schools and renaissance fairs, in addition to our monthly events.
To see which chapters are in your area, you can visit the Adrian Empire website:
Dynamic Room:
Chris Lam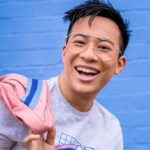 Chris Lam is a Los Angeles-based YouTube content creator, producer, host and actor. Formerly a Buzzfeed producer, Lam is most known for his YouTube channel, OneWingedChris, where his covers video games, anime, LGBTQ identity, and race.
He also works as a producer for NBC Asian America.
Follow Chris at:
Panel:
Andy Lowe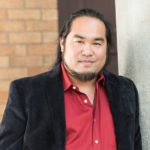 Andy Lowe was a Playwrights Project 1994 finalist winning production of his play "the Cultural Hyphen" at the Old Globe at age 18. Shortly thereafter he founded Asian American Repertory Theater (San Diego's Third AAPI theatre) producing ten seasons and over forty productions as Producing Artistic Director. He continued to direct, produce, and perform independently throughout San Diego while serving as founding program coordinator of the "Theatre-In-Residence Program" at the La Jolla Playhouse 2007-2012.
As Director of Casting and Production for East West Players, the Largest Professional producer of AAPI theatrical work in the nation, he continues to take on leadership roles, working on issues of representation & diversity in entertainment. Andy direct plays, musicals, and immersive entertainment through his ChinesePirateProductions.com, notably a 2007 adaptation of the biography of Japanese American Sympathizer and SD Public Librarian Clara Breed, a nationally recognized fan-adaptation of Joss Whedon's Dr. Horrible Sing-Along Blog in 2011, and freelance projects for Walt Disney Imagineering.
Follow Andy at:
Panel:
Mickey Lyle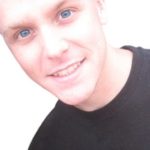 Exiled from the wintry north at a young age for a dissenting opinion of the established power structure, Mickey has roamed the golden lands hungry for knowledge and opportunity.
Already a jack of all trades as a result of his travels, Mickey currently trains in the darker arts of technomancy in secret circles in the area.
Panel:
Terry Mayo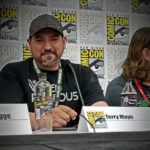 Terry Mayo is a writer for Wicked Righteous from Alterna Comics, and Disposable Legends from TPubComics.
Panel:
MissEchoScreen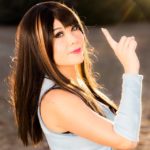 MissEchoScreen started her cosplaying hobby from the earlier days of Final Fantasy, hence her stage name is a play on her first name and an item used in one of the most mentioned Final Fantasy games of all time, Final Fantasy VII.
The item is an Echo Screen, which cures the status ailment silence, and she believes that cosplaying is a powerful tool to unite everyone and suppress silence. Outside of cosplaying, she and her husband are also photographers who absolutely love to capture life as it happens and to share this art with others.
Follow MissEchoScreen at
Panel and Judge:
Elijah Moncado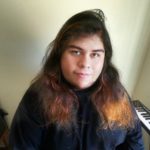 Elijah is a Twitch user with handle "aoarms" which stands for Ace of Arms. He has streaming for around 2 and a half years playing guitar, doing production, and creating music. Elijas has been an avid user of twitch and has been lucky to experience cool things through the community.
Elijah performed for Twitchcon in the 2017 after being selected out of numerous auditions, which led to Elijah producing his first album. Through networking with painters, musicians, artists & more has made Twitch a fun environment to be in and thrive.
Follow Elijah at:
Panel:
Anna Nguyen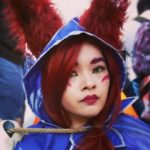 With her 13 year background in visual arts, Anna has been cosplaying for 4 years. Her cosplays are from a range of video games and anime.
Some of her cosplays include Ahri from League of Legends, Female Izuku Midoriya, from My Hero Academia, and Panther from Persona 5. Two of her favorite games are Monster Hunter (Hunting Horn) and Final Fantasy XIV (Red Mage).
Follow Anna at:
Panel:
Jimmy Nguyen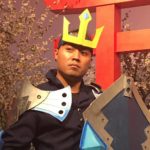 Jimbo is a Twitch streamer and cosplayer under JimbofortheNguyen ("for the win"!). Since 2016, he has been crafting some of his costumes on stream and playing from a backlog of indie games. Some cosplays on stream include Sokka and Asami from Legend of Korra, King Knight from Shovel Knight, and a gijinka Empoleon based off of his friend's art design.
Through Twitch, he has met a handful of cosplayers and creators in the Twitch community while getting his projects done, and hopes to inspire other cosplayers and creators to start streaming their work on Twitch and building a larger creative community.
Follow Jimmy at:
Panel:
Alonso Nunez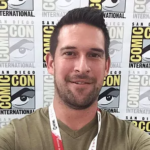 Alonso graduated from the School of Visual Arts majoring in Comic Illustration. A third generation San Diegan, he has always had a passion for the comic artform in all its various styles, genres, and purposes.
He is an active comic professional, an advocate for the comic medium, and an original founder of Little Fish Comic Book Studio. He is also the current Executive Director and Lead Instructor. Learn more at www.lilfish.us
Panel:
AJ Outloud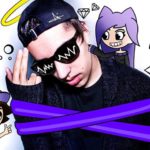 AJ OutLoud is Cinematographer / Designer who is known on and off sets for some of hollywoods biggest productions. He works with Brands like SnapChat, RedBull, and MTV alongside celebrity friends including LMFAO, David Lehre, Joey Brezinski, & Swaggy the Dog. He recently helped concept and star in a live action mini series for Hot Wheels as seen on Cartoon Network & Youtube. When AJ is not studying or working in Hollywood with Vendetta Studios he's found at most Anime Conventions and esports events. He loves creating CMV's and Art Work that mixes the otaku and gaming culture with a flair of hypebeast style.
Follow AJ Outloud at:
Panel:
Lisa Pinelli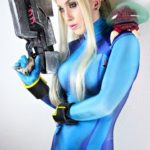 Lisa is a model in the Southern California Area. She is a city girl who enjoys being outdoors and belongs in the country. Lisa loves the beach, and sports such as snowboarding, cheer leading, gymnastics, aerial arts, and football.
Lisa is a gamer and loves Marvel. She is a college student majoring in Animal Science and is a very compassionate person who loves helping others. She can get along with almost anyone and has a great personality. Her favorite word is SMILE, so start doing it!
Follow Lisa at
Room:
Silverio "Kalani" Queja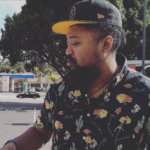 Silverio "Kalani" Queja has been playing D&D for 14 years and DMing for 10. An IT professional by day and a dragon slayer by night, he is known for his crazy characters and his blatant abuse of the Wild Magic Surge Table. His abysmal dice rolls rival the famously terrible rolls of Will Wheaton.
After a long rest, he fills his time with video games and culinary exploration, audio editing and other oddball projects. Currently, he is helping edit "Die By The Dice" podcast.
Follow Silverio at:
Panel:
Phillip Reich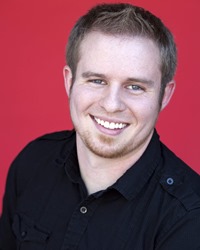 Philip Reich is a voice actor known mostly for his video game work. His major roles include Excitable A-Lister/Ace Cadet from Monster Hunter: World, Haru's Fiance/Sugimura from Persona 5, Nanashi/Akira from Shin Megami Tensei IV: Apocalypse, and Mark Twain from Bungou Stray Dogs.
His credits also include anime (Charlotte), animation, and commercial work for companies like Toyota, Home Depot, and Sonic.
Follow Phillip at:
Panel:
Dr. LaWana Richmond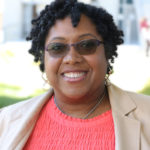 Dr. LaWana Richmond is passionate about Afrofuturism for many reasons such as the fact that she just enjoys all forms of media in the genre, but more recently because its value as a framework for connecting underrepresented students to STrEAM fields and underserved communities to economic and social planning and development.
She recently co-organized the Afrofuturism Lounge, an after party/counter con event for Black comic creators, writers, artists, animators, and publishers to share their stories and wares with a diverse audience.  Dr. Richmond works at the University of California, San Diego where she manages organizational development and process improvement for Transportation Services and lectures on Higher Education Administration and Governance as well as Afrofuturism.  Learn more about her projects at www.firyali.com
Follow Dr Richmond at:
Panel:
Travis Rivas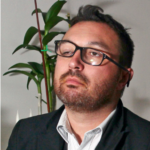 Travis Rivas is a mutant. He's also a lover of comic books and Star Wars. He's been writing for the past twenty years but has only recently starting writing comics. He was born with a rare limb difference, called TAR syndrome. Because of this, he's an advocate for seeing individuals with limb and body differences in media.
He's currently writing his own comic about a superhero with a limb difference entitled The Unstoppable Cherub. You can buy the debut issue of Unstoppable Cherub at cherubcomics.etsy.com.
Follow Travis at:
Panel:
Armando Rodríguez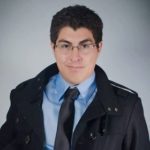 Armando Rodríguez is from Tijuana Baja California / San Diego California. He is a former member of the Fotógrafos Videógrafos Profesionales de Baja California (FVPBC) & member of Professional Photographers of America (PPA).
Armando is always looking forward to creating incredible images. He has been showcased throughout Baja California and Southern California for over 11 years.
Panel:
Adin Rudd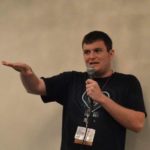 Adin Rudd is a voice actor in video games and anime. He's most known for his work as Hok in Warframe, Abyssal Lord Drogoz in Paladins, as well as several characters in the online card game, Shadowverse.
Adin has also appeared in such anime as Magi: The Kingdom of Magic as Otto, as well as One Punch Man, Jojo's Bizarre Adventure, Gundam: Iron Blooded Orphans, and many others.
Look for Adin in the soon to be released game Dauntless (currently in open beta) where he voices the character of Gaius Copperwheel.  Check out his website at adinrudd.com.
Panel:
Sonya Saturday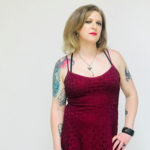 Sonya Saturday is a Los Angeles-based cartoonist. She uses grown-up humor in her work to explore pansexuality, gender and queer identity. Her work often features demons, dinosaurs and beautiful women.
Her books include "The 2016 Republican Presidential Candidates Coloring and Activity Book," "A Ninja Dinosaur Christmas!!!," "Why Do You Cry When I'm On Top?" and the short play "Don't Party With My Mom." Sonya has contributed autobiographical stories to several comics anthologies, including "Anything That Loves," "Alphabet," "We're Still Here," and "Mine!"
Follow Sonya at:
Panel:
Science Fiction Coalition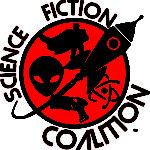 Science Fiction Coalition is a private club of science fiction fans that loves to give back to the community.  We support charities,fundraisers, conventions, and special events.  We also love to show and express our fandom of Sci fi to the Universe.  Learn more at www.scificoalition.org.
Follow the Sci Fi Coalition at:
Room:
Todd Shelton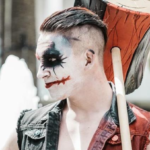 The Arkham Oak, lesser known as Todd Shelton is a SoCal based cosplayer, bodybuilder, prop maker and practising sfx makeup artist. Todd started cosplaying at the age of 16, being known mostly for his genderbent renditions of Harley Quinn as well as Pyramid Head from the Silent Hill franchise.
However, he has also tackled characters such as Nemesis from Resident Evil, a COG soldier from Gears of War as well as his own take on the infamous Joker from The Batman Universe. Todd doesn't plan on letting off the gas anytime soon as he continues to grow his skill set and expand his cosplay closet with bigger, better and more improved cosplays.
Follow Todd at:
Judge:
Anusith "Sith" Sounnadath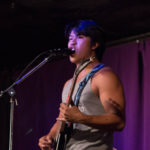 Sith is a metal enthusiast with an unflinching love for distorted guitar riffs and pounding drums. An ideal night for Sith would be spent in a dark venue listening to sweaty people fire away on their instruments, whilst head-banging and moshing with the sweatiest of people in the crowd.
He is on an ongoing quest to help others understand that metal is more than random noise paired with Cookie Monster vocals, and believes there is something for everyone within the genre. To him, nothing says passion quite like a well-executed scream, and he highly encourages all to channel their fury during this year's festivities.
Follow Sith at:
Dynamic Room:
Star Wars Society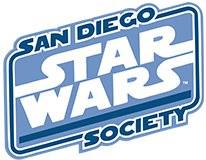 The San Diego Star Wars Society is a Non-Profit charitable and community service organization. We have been celebrating all things regarding the Galaxy far, far away since 2002. We are a family friendly organization and there is no cost to participate. Visit their website at www.sandiegostarwars.com
Follow them at:
Panel:
Roberto Suarez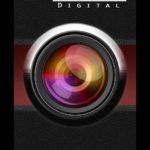 Roberto Suarez started off by taking sport photographs with a point and shoot camera, a year later he bought a DSLR and gained greater knowledge of the craft.
Roberto does this as a fun way to show his work and express himself through various different ways shown on this page. If interested you can look at his website at www.suarezdigital.com
Follow Roberto at:
Panel:
Victoria Sun
Follow Victoria at:
Panel:
Team Blur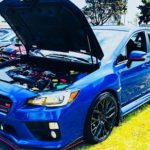 Team Blur was founded in 1998 in San Diego, California which then progressed to the Bay Area in 2000. The guys are very serious about making an impact on the automotive scene. Team Blur not only promotes a tasteful style of cars but also exemplifies excellence in public assistance. Team Blur has donated money to charities and organizations. Recipients include homeless veterans at the VA and toys for kids who have disabilities at children's hospitals. The team has also held various local car meets to clean several locations such as beaches and roadways throughout San Diego.
Team Blur will be at the Outdoor Patio on Sunday, September 23
Team Lift XMA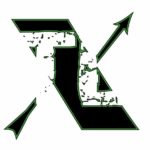 Led by Martial Artists Dustin Breiter and Nick Zela, with over 14 years Martial Arts experience each, Team Lift XMA, a San Fernando Valley based Martial Arts performance team, is all about high energy performance and death defying stunts. Recently incorporating the popular sport of Parkour and it's subsidiary Free Running, has led to being featured in the opening of MTV's new show "The Engine Room."
Team Lift has been invited as guests to host a number of panels and workshops at numerous events, including many Anime Conventions including Mikomicon, Pacific Media Expo, Anime Los Angeles, Fanime, and Anime Conji.
Follow them at:
Panel:
Tom Thurman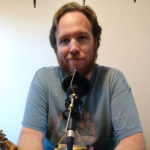 Tom Thurman has been playing D&D on and off for 24 years, as a player since 4th grade and a DM since middle school. In his early years he was known for his prowess with Mages and Paladins, but since the introduction of the d20 system, has been experimenting with all classes, and chasing his white whale character- a Drunken Master monk.
He has either DM'ed or shared DM duties in every group he has played with, introed and trained many players, and most recently has begun inducting his 14 year old daughter into the ways of the game. Currently he can be found online as one of the players in the Die by the Dice podcast.
Panel:
Melanie West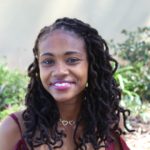 Melanie West is an Ethnic Studies PhD student at the University of California San Diego. She received her bachelor's degree in Studio Art at Nazareth College before graduating from the acclaimed Clarion Science Fiction and Fantasy Writer's Workshop, where she received the Octavia Butler Memorial Scholarship.
Her research explores how black people use speculative fiction as a political tool for world building. Her fiction has been published in the Magazine of Science Fiction and Fantasy and she also creates comics and films.
Panel:
Tristan Whitehouse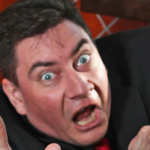 Tristan Whitehouse was born and raised in San Diego, studied animation in high school, and graphic design in college. He spends almost every spare minute at the drawing desk or Cintiq, except when he's making coffee.
He and his wife Krystle frequently collaborate on projects together. www.ArtKnightStudios.com
Follow Tristan at:
Panel:
More guests to be announced soon!