2019 Fangaea Guests
2019 Fangaea Special Guest – Joe Ochman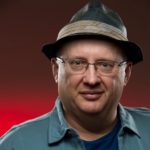 Connecticut native Joe Ochman has acted professionally in films, television, stage, commercials, video games, animation, anime and recorded books for almost forty years. For a TV-addicted, movie-cartoon-avid-reading-comic-book-sci-fi freak, it's been the perfect way to make a living.
Joe's voice has been heard in diverse roles all over the anime universe, in shows like Naruto, Marvel's Blade, Transformers: Robots in Disguise, Digimon, Gundam Origins, JoJos Bizarre Adventure, Hunter x Hunter, Twin Star Exorcists, Duel Masters, Wolf's Rain, Cowboy Bebop, Mon Colle Knights, Shinzo, and many, many more.  In animated TV, Joe recurs as Mayor Billington on Disney Junior's Doc McStuffins, and as Mayor Bourgeois (Chloe's father) on Miraculous: Tales of Ladybug and Cat Noir.
In the gaming world, Joe most recently worked on World of Warcraft: Battle For Azeroth. He voiced (another!) Chloe's father, William Price in Life Is Strange, and voiced (and motion-captured) Professor Harold MacDougall in Red Dead Redemption and its Undead Nightmare DLC. He also voiced roles in Fallout 4, Dishonored 2, World of Final Fantasy, Kingdom Hearts HD 2.5 Remix, Call of Duty: Advanced Warfare, The Evil Within, Murdered: Soul Sacrifice, Lichdom: Battlemage, Diablo III, Command & Conquer 4 and many more. He has several huge upcoming titles he's not allowed to reveal… at pain of death.
On camera on TV, he guest starred on Disney Channel's Best Friends Whenever, Bones on Fox, Showtime's House of Lies and Weeds, and Criminal Minds: Suspect Behavior for CBS. Joe recurred as a guest star on CSI and Sleeper Cell. He has shown up on Buffy the Vampire Slayer, Lois & Clark, Seinfeld, Will & Grace, House, West Wing, NYPD Blue, Desperate Housewives, That's My Bush and many others.
In film, he has worked on Blumhouse's Truth Or Dare and The Purge:Anarchy, Never Been Kissed, Space Jam, Officer Down and a bunch of indie films: Saving Lincoln, House of the Rising Sun, Black And Blue, Dead Game and Donald And Dot Clock Found Dead In Their Home, among others. In animated film, he appeared in the Oscar-nominated Ernest & Celestine, the National Film Award winning Delhi Safari and the Annie and Cesar Award winning Zarafa.
In animated film, he appeared in the Oscar-nominated Ernest & Celestine, the National Film Award winning Delhi Safari and the Annie and Cesar Award winning Zarafa. Historically speaking, he played a very stoned ghost of Benjamin Franklin in How High (a role he also played – straight and alive – in The Franklin Spirit, a multi media presentation in the US Pavilion at the 2005 World Expo in Aichi, Japan…and on the Today Show!).
The stage has always been Joe's first love, though, and he has fulfilled that romance in dozens of plays. He also writes for film and TV, coaches acting to an eclectic celebrity clientele (including Guardians Of The Galaxy's Dave Bautista and rock legend Alan Parsons), and is an award winning stage director.  Learn more at www.joeochman.com
Follow Joe at:
2019 Guests and Panelists
Rebecca and Matthew Eusey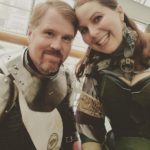 Rebecca and Matthew Eusey have been semi-professionally costuming across many genres for nearly 20 years. Matt and Rebecca helped co-found the Society for Creative Anachronism chapter in the country of Iceland. They have been panelists at SDCC, Wondercon and across the southwest. They are often found teaching sewing and leatherwork at their home in Chula Vista, CA.
The cosplay and geek culture home for Matt and Rebecca Eusey is BexandRedCosplay. Rebecca is a Royal Guard in the 501st, and has led workshops on persona development, creating costumes on a budget, multicultural steampunk and couples cosplay. Matt has been recognized for his ability to clearly explain complex topics. He's a leatherworker, painter, and nerf gun modifier.
Follow Rebecca and Matthew at:
Panel:
Anna Nguyen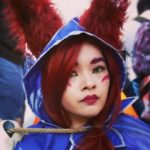 With her 13 year background in visual arts, Anna has been cosplaying for 4 years. Her cosplays are from a range of video games and anime.
Some of her cosplays include Ahri from League of Legends, Female Izuku Midoriya, from My Hero Academia, and Panther from Persona 5. Two of her favorite games are Monster Hunter (Hunting Horn) and Final Fantasy XIV (Red Mage).
Follow Anna at:
Panel:
Lisa Pinelli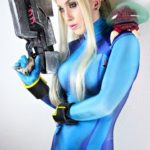 Lisa is a model in the Southern California Area. She is a city girl who enjoys being outdoors and belongs in the country. Lisa loves the beach, and sports such as snowboarding, cheer leading, gymnastics, aerial arts, and football.
Lisa is a gamer and loves Marvel. She is a college student majoring in Animal Science and is a very compassionate person who loves helping others. She can get along with almost anyone and has a great personality. Her favorite word is SMILE, so start doing it!
Follow Lisa at
Room:
Star Wars Society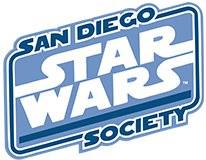 The San Diego Star Wars Society is a Non-Profit charitable and community service organization. We have been celebrating all things regarding the Galaxy far, far away since 2002. We are a family friendly organization and there is no cost to participate. Visit their website at www.sandiegostarwars.com
Follow them at:
Panel:
More guests to be announced soon! Line up subject to change without notice