Special Guest Announcement – Derek Stephen Prince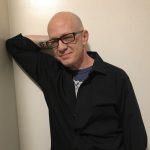 Derek Stephen Prince, aka Steve, has been an actor his whole life (44 years to be exact) and in the voiceover industry 27 years.
His career spans across such shows as Power Rangers Turbo, Power Rangers In Space, Power Rangers Lost Galaxy, Power Rangers Time Force & Power Rangers Wild Force; Digimon: Seasons 1-4 & 6-7 playing such favorites as Digimon Emperor, Veemon, Beelzamon, Impmon, Piedmon and Jeremy, to name a few; Love, Hina where he played Keitaro; Naruto/Boruto, where he played Shino Aburame; Iggy the Boston Terrier on Jojo's Bizarre Adventures: Stardust Crusaders; and Ranjiro Kiyama in BeyBlade Burst Turbo.
Video games include the Kingdom Hearts series as Vexen; Odin Sphere as Oswald; Fuyuhiko Kuzuryu in Danganrompa V2; Kokichi Ouma in Danganrompa V3; Detective Harper in Blade Runner: Redemption; and Asuka in Guilty Gear:Strive.
Steve was in the original cartoon series of Lilo & Stitch as Loki the shaved ice vendor; Little, Big, Awesome for Amazon; NFL Rush Zone – Guardians Unleashed as Jackson; the film Jungle Shuffle with Rob Schneider and Drake Bell as Louca the toucan; and Scary Movie 3 where he played the alien that pees with his finger, alongside Tom Kenny who was the other alien.
You can currently see him as Uryu Ishida in Bleach: Thousand Year Blood War, reprising his role from 15 years ago, as Kibao, in Sword Art Online: Progressive – Aria of a Starless Night & Scherzo of Deep Night, and as Goto in Demon Slayer: To The Swordsmith Village.
Steve is excited to return to Fangaea, where he first appeared in 2018!
Follow Derek Stephen Prince: