Fangaea Schedule
There is so much going on in this year's Fangaea, you will never be bored! The Dynamic Room will have so many immersive experiences you'll wish you had a time stone to be able to go to everything more than once!  Our General Panels are entertaining encounters with various fan themes with some in-depth discussions on provocative topics.
And our Entertainment schedule is jam packed with awesomeness, as we present non-stop, action-packed craziness ranging from cosplay contests to Japanese Taiko drums!
Below is the information for 2022 – as we get closer to April 29, 2023, we will be constantly updating this page – so keep coming back!
2022 DYNAMIC ROOM SCHEDULE
2022 GENERAL PANEL SCHEDULE
2022 ENTERTAINMENT SCHEDULE
Sunday
Flautist Acacia

-

Genbu Daiko

-

The Indigo-Go's Ensemble

-

Melly Mimi

-

Shofukan Kendo Dojo

-

CTRL.ALT.SD

-

Nerdknight Music

-

Cosplay Contest

-

Holoverse

-

VampXotica

-

OnlyChrisAng

-
Click here to see 2019's program book and guide, complete with maps and schedule!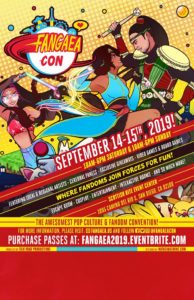 All scheduled programming is subject to change without notice.