Fangaea Schedule
Fangaea 2023 Information below – 2024 info coming soon!!!
There is so much going on in this year's Fangaea, you will never be bored! The Dynamic Room will have so many immersive experiences you'll wish you had a time stone to be able to go to everything more than once!  Our General Panels are entertaining encounters with various fan themes with some in-depth discussions on provocative topics.
And our Entertainment schedule is jam packed with awesomeness, as we present non-stop, action-packed craziness ranging from cosplay contests to Japanese Taiko drums!
Below is the information for 2023 – and we will be constantly updating this page – so keep coming back!
All schedule entertainment is subject to change!
Dynamic Room 1 (SHELL ROOM) Schedule
Dynamic Room 2 (HEALD ROOM) Schedule
General Panel Schedule
Saturday
Helene Summer - How to Get Your 15 Minutes of Fame! (more info soon!)

-
ENTERTAINMENT SCHEDULE
Saturday
Valeska De La Torre-Elliott

-

Melly Mimi x Kaba x Peachiikuma

-

G-Moto

-

Genbu Daiko

-

onlychrisang

-

Shofukan Kendo Dojo

-

Nerdknight Music

-

Cosplay Contest

-

SuperNovA

-
Click here to see 2019's program book and guide, complete with maps and schedule!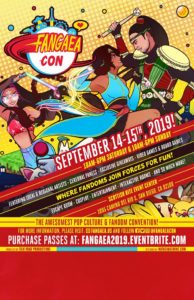 All scheduled programming is subject to change without notice.