Sponsorship Opportunities
Be a supporter of the awesomest pop-culture, fandom convention this side of Proxima Centauri!
Take a look at the sponsor matrix below and let us know how you want to support Fangaea! There are a variety of visibility and marketing benefits, as well as participation and on-site opportunities!
2023 Sponsors
First Stop Cosplay – Superhero Sponsor!

First Stop Cosplay was founded in the summer of 2019 by Amanda "Mari" Gregory on the belief that anyone who wants to cosplay should be able to. The people at First Stop Cosplay understand the value of creating your cosplay yourself and stand for cosplays that you are proud to wear because they fit you just right and are as accurate as you want them to be.
Everything they do keeps in mind the people who want to cosplay but don't know what to do or how to get started. They strive to tear down barriers that prevent aspiring and existing cosplayers from making their own costumes.
At First Stop Cosplay, their goal is to help and show people how to take those first steps into cosplaying and improve their skills. They have tips and tutorials to help people at all skill levels, and that's just the tip of the iceberg!
Visit and follow them at:
Impikable – Otaku Sponsor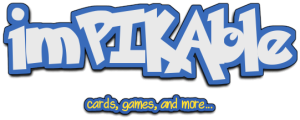 We grew up with Pokémon but got lost along the way. Join us on our journey back into card mayhem. We do small shows 3x a week with our BIG shows on Saturdays. Some random shows in between, where we give updates, do openings, or test out features. Follow for alerts and random giveaways!
Follow them at:
Click here for the sponsorship pdf