Special Guest Announcement – Dana Snyder
We are VERY excited to announce a special guest at this year's Fangaea – Dana Snyder, the talent behind MASTER SHAKE!!!
Dana Snyder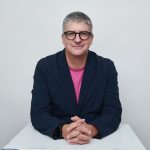 Like most showbiz legends, Dana Snyder was born in Pennsylvania and grew up in Las Vegas. He is known as the voice of Master Shake on Adult Swim's Aqua Teen Hunger Force, as well as memorable roles The Alchemist in The Venture Bros and Granny on Squidbillies.
On Nickelodeon he can be seen and heard as the evil bunny Dr. Colosso on The Thundermans. For Disney, he voices Scratch in The Ghost and Molly McGee. He has also starred in plays and musicals on stages all over the country.
Dana has played a surprising number of grandmothers in his career. Seriously, it's kinda weird.
Follow Dana Snyder 
Find Dana Snyder in the Corinthian Room!