3D Model Challenge with TinkerCAD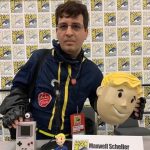 This panel will challenge the presenter to create new 3D models. Max Scheller will make new 3D models on the spot based on your input. Modeling will be done through TinkerCAD.
Great for anyone looking to start making 3D models for 3D printing and video games.
Learn more at www.thatguywithagameboycamera.com
Follow me!
All programming is subject to change without notice.
Event Timeslots (1)
Saturday
-

fangaea