San DiEgo Sabers: Light Saber Combat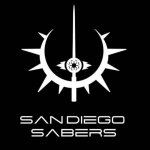 San Diego Sabers is San Diego's premier Lightsaber Training Combat group! Our mission is to promote and teach lightsaber combat and dueling skills by helping each other learn and grow through acceptance, respect, and a positive attitude.
We combine aspects of kendo, wu-shu, European and Asian swordplay, fencing, and various other arts into our practice.  This makes what we teach a true mixed-martial-arts discipline, that we call Saber Martial Arts.  We help each student to determine the path that fits them best, and develop along that path as far as they want to go, whether it's just for fun or they want to go fully competitive.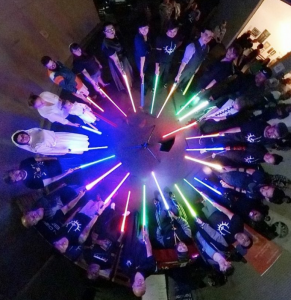 As Star Wars enthusiasts and martial artists we combine the best of both worlds to create a community where we teach, and practice the martial application of weapon based combat sports, and the inspirational lore of personal growth inspired by the force were all very fond of.
This coming May 7th in celebration of May the 4rth ( heh heh…get it? ) we will be hosting our annual national open tournament. If you would like to try your hand in lightsaber combat come ask how to join, or if you simply think it's a cool thing to check out come ask us about the details.
This group has been operational for about 6 years now, has always been free, and has always had weekly meetups. Participation only requires the signing of a waiver, and an understanding of simple group rules. We wear safety gear in the form of a fencing helmet and lacrosse gloves, and hold weekly classes open to the public for anyone interested in learning. We also practice the radical acceptance of anyone who would like to be a part of our community of fans, martial artists and friends.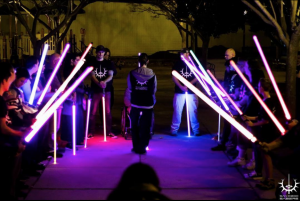 Join us at Fangaea Con in the Dynamic Room where you can come meet us and test your skills in our boffer (foam sword) showdown! You can meet our custom saber builders, cosplayers, and tournament competitors as well as (if you're interested) learn more about beginning your very nerdy journey into the martial arts and the light saber community.
Follow and learn more at
All programming is subject to change without notice.
Event Timeslots (1)
Sunday
-

fangaea