Light Saber 101
Think you have what it takes to defend the Galaxy against the Empire? Want to audition to Lord Vader to be his next Sith acolyte? Come and test your light saber skills as BexandRedCosplay walk you through basic LIGHT SWORD drills, safety, warm-ups, a few combinations, and a cool-down in this 90 minute session.
Dress comfortably, jeans are okay. Suitable for ages 10 and up. and everyone must sign a waiver to participate bring your own light saber – limited quantities to borrow only for the duration of the workshop will be available on site.
This exciting Dynamic Room panel will be led by BexandRedCosplay!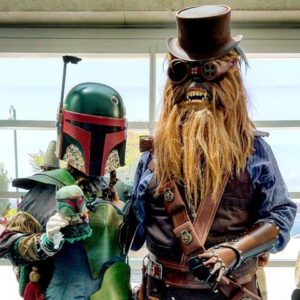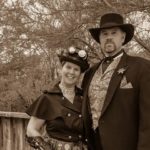 BexandRedCosplay is the cosplay and geek culture home for Matt and Rebecca Eusey. Rebecca is a Royal Guard in the 501st, and has led workshops on persona development, creating costumes on a budget, multicultural steampunk and couples cosplay.
Matt has been recognized for his ability to clearly explain complex topics. He's a leatherworker, painter, and nerf gun modifier.
Panelists:
Event Timeslots (1)
Sunday
-