THE DAWN OF FANDOM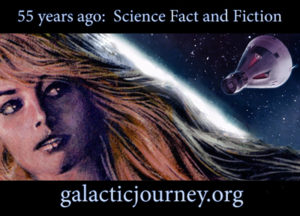 Blast back to September 1964: Beatlemania has seized the nation, the Great Society is on the rise, but southeast Asia and America's inner cities are in turmoil.
In geekdom, the Twilight Zone has just ended its five year run, but The Outer Limits is going strong, the Robinsons are about to get Lost in Space, and The Doctor is starting his second season. Marvel and DC comics have growing stables of superhero teams, featuring a level of diversity and maturity never seen before. Anime is so new that the genre doesn't have a name yet. Tabletop wargaming has taken off. And at this year's World Science Fiction convention, a civil war has violently split the fans.
Join us for a whirlwind trip through time: The Space Race, films, books, music, comics, politics, fashion — we cover it all! You'll laugh, you'll learn, and you might even win a prize!
Follow Galactic Journey at:
Panelists:
All programming is subject to change without notice.
Event Timeslots (1)
Saturday
-