Vocal Synths and You: Your Guide to Vocaloid and More
An introduction to the different aspects of Vocaloid, including (but not limited to) the fandom, concerts, games, and voicebanks; and of sister software UTAU, including how to make your own UTAU voicebank! Hosted by Charlie Kowai, voice provider of many UTAUs, including Galatea Laitselec and Koharu Kowai.
Panelists:
Charlie Kowai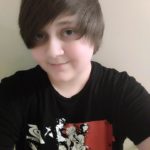 Charlie has a lot of experience in the cosplay and convention circuit, organizing and running various groups and gatherings, as well as volunteering for other conventions, as well as being a cosplayer himself. Current passions include JoJo's Bizarre Adventure and Kingdom Hearts, but has delved into many other fandoms. In his free time, Charlie plays video games and covers various Vocaloid producer's songs.
All programming is subject to change without notice. 
Event Timeslots (1)
Sunday
-