Sci-Fi Coalition – Sci Fi 82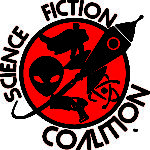 The Sci-Fi Coalition will have a lively discussion about the impact of 1982 on Science Fiction movies. What are the movies have influenced film for 40 years.?Also, fun facts and figures on Tron, E.T., Star Trek II, Blade Runner, The Dark Crystal, and others. Learn more about the Sci-Fi Coalition at www.scificoalition.org. 
The Science Fiction Coalition was founded on January 1st, 2017 in San Diego by Shawn Mullen and fellow science fiction enthusiasts. Our mission is simple: Support our community, uplift each other and all of those arounds us, and celebrate the spirit of fandom.
Our club accepts geeks and nerds from every fandom! Whether you're from a galaxy far far away, an alumni of Hogwarts School of Witchcraft and Wizardry, or a resident of Middle Earth, we love providing a safe place for everyone!
Whether you are looking for a group of fellow nerds to hit up the movie theaters, or want to volunteer as a cosplayer and give back to the community, we'd love to have you!
All programming is subject to change without notice.
Event Timeslots (1)
Sunday
-

fangaea