LARP 101, and how to write story in a changing environment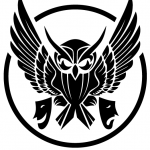 Twin Mask LARP presents a panel on LARPing and how to write story in an ever-changing environment.
Some heroes fell asleep, for they must have to ignore the troubles that became the world. Now it is time for them to awake and shape the world once more. War looms in every country, and the assassination of the Amalgamation's voice signals the dawn of a new age.
Welcome to Twin Mask, a southern California LARP, where sorcery is feared and creatures of myth have faded into seclusion. Here, in the heart of 'Tear' a recently discovered continent, characters from all backgrounds will be called back from death and be forced to band together in order to survive and make sense of the world around them.
John Basset, Founder and Creative Director, was born into a military family, John has lived and LARPed throughout the US, having grown up in Illinois, Massachusetts, and Virginia. Now residing in California, John has been LARPing for the past 20 years.
"LARPing changed my life. When I was a kid, it helped me make friends, build confidence, and express myself in a healthy environment. It's athletic, creative, and a lot of fun. I really appreciate the chance to pay it forward and run a game that helps others in the same way that LARP helped me."
Learn more at www.twinmask.com
All programming is subject to change without notice.
Event Timeslots (1)
Sunday
-

fangaea