KoTN – A STEP BACK IN TIME
The Kingdom of Terre Neuve invites you to a Step Back in Time, with armor and fighters, arts, and the chance to try on some garb and take photos with your friends.  Battle with some of our fighters and get some first hand knowledge of the different fighting techniques.
The Kingdom of Terre Neuve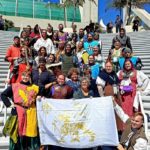 The Kingdom of Terre Neuve is a chartered division of the Adrian Empire. They  are committed to historically accurate reenactments of medieval life, art, and combat. The Adrian Empire covers primarily southern San Diego County and Imperial County, CA. The Adrian Empire is an international organization with chapters throughout the United States and Canada, including some U.S. military bases.
The Adrian Empire is a non-profit, educational organization that recreates history from the time frame of 793 to 1624 AD. This time frame covers what was known as the Middle Ages (Medieval) through the Renaissance period. Every month they have many local events which include Live Steel / Ren fighting, Archery Tourneys and Arts and Sciences displays and competitions.
To learn more, you can visit the Adrian Empire website or their facebook group page below:
All programming is subject to change without notice.
Event Timeslots (1)
Sunday
-