Joe Ochman – Everything You Always Wanted To Know About The Life Of A Voice Over Guy But Were Afraid To Ask
Spend an hour with ur special guest Joe Ochman in this panel. More than a Q&A with a ridiculously long-time veteran of showbiz (on camera and behind the mike), this is a chance to ask any burning question about how it all happens, what makes an audition great, what it's like to do this stuff, any stupid stories, anything you want to know not covered by one of those ever present NDAs. Well keep it loose, freewheeling and fun.
Panelists:
Joe Ochman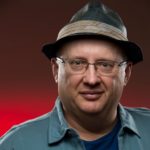 Connecticut native Joe Ochman has acted professionally in films, television, stage, commercials, video games, animation, anime and recorded books for almost forty years. For a TV-addicted, movie-cartoon-avid-reading-comic-book-sci-fi freak, it's been the perfect way to make a living.
Follow Joe at:
All programming is subject to change without notice.
Event Timeslots (1)
Saturday
-