How to Wig With the Wig Doctor
New to wigs? Does the thought of having to cut or trim bangs terrify you? Is it really possible to spike a wig or is everyone on the internet lying? The Wig Doctor is here to help and answer any and all of your questions! Stop on by and learn the basics of wig styling, maintenance, and repair!
Panelists:
Cumberpunch Cosplay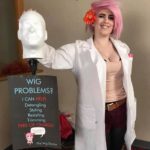 Cumberpunch Cosplay AKA The Wig Dr. was introduced to the world of cosplay in 2004 and has been completely obsessed ever since. In 2010 her skills as a wig stylist began to stand out and is now a nearly full time wig commissioner. She supports and encourages fellow cosplayers as The Wig Doctor, performing miraculous repairs and spreading her knowledge and positivity around every con she attends.
Follow Cumberpunch Cosplay at:
All programming is subject to change without notice.
Event Timeslots (1)
Saturday
-