Bill Kopp Presents
Two-time Academy Award-winner Bill Kopp is hosting his own panel at Fangaea, reading from his book, "LITTLE DEAD RIDING HOOD," and talking about funny cartoons!
Panelist: Bill Kopp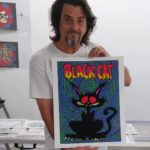 Bill Kopp has been making funny cartoons for over 30 years. He is the co-creator of EEK! THE CAT and voiced the beloved title character.
Kopp directed the animation in the feature films ONE CRAZY SUMMER and BETTER OFF DEAD and was one of 3 animators on the early SIMPSONS shorts on the TRACY ULLMAN SHOW. He wrote and produced THE SHNOOKUMS AND MEAT FUNNY CARTOON SHOW, which included TEX TINSTAR and PITH POSSUM SUPER-DYNAMIC POSSUM of TOMORROW!
All programming is subject to change without notice.
Event Timeslots (1)
Sunday
-