Bex and ReD Costume Creation and Collection Contest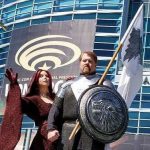 Bex and Red Cosplay have been designing innovative original cosplay characters and supporting Fandoms for over 20 years. From medieval to retrofuturism, this pair works in leather, cloth, mixed media and specializes in using Glowforge, 3D printers and electrical accessories.
You might know our most famous creation, Lady Babette Fett, the steampunk femme Boba Fett.
Two teams will compete to assemble a complete look, from the selection of costume accessories provided. The audience will vote for their favorite final look, head to toe.
A group member is the mannequin, and your group will have the opportunity to design and complete a "look". Explore your creativity, join us for a fun, high energy activity only at Fangaea con!
Winners will be awarded an awesome prize!!!
Follow them at www.facebook.com/BexandRedCosPlay
All programming is subject to change without notice.
Event Timeslots (1)
Sunday
-

fangaea