Video Game Room Presented by San Diego LAN
Our Video Game Room will have VR and classic consoles! Presented by San Diego Lan in the Ionic Room, this will be an exciting addition to this year's Fangaea!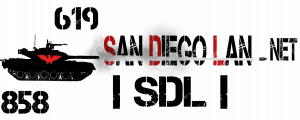 Learn more about San Diego LAN at sandiegolan.net
The Game List!
VR:
The Lab
Beatsaber
Super Hot
Job Simulator
Others upon request
Retro Consoles:
Hosted on two modded wii's we have 8 gb of installed games from:
SNES, N64, Gamecube and more!
Smash Bros
Mario Bros
Mario Kart
Much more!
Game cube controllers are limited, feel free to bring yours.
PC:
We will have stations setup for 4 player games, either 2v2 or 4 player co-op including:
Call Of Duty
Minecraft
Blur: Racing
Many other PC titles!