Fangaea Guest of Honor – Chris Patton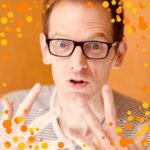 Chris Patton has been Voice Acting in Anime, Video Games, and Audiobooks for the past nineteen years. He's voiced titles for every major dubbing studio in the US, including Funimation, Bang Zoom, Okratron 5000, ADV Films, and Sentai.
Some of his most notable roles include Greed in FMA and FMA: Brotherhood, Ayato in Diabolik Lovers, Sousuke Sagara in Full Metal Panic, Asura in Soul Eater, Kliff in Fire Emblem Echoes, Turles in the Dragonball Z franchise, and Keima in The World God Only Knows. Some his favorite roles are Graham Spector in Baccanno!, Rei Otohata in Super Gals!, Fakir in Princess Tutu, Sasame in Pretear, and Oikawa in Haikyuu!
Chris has narrated over 130 Audiobooks, including the Disney novelizations of Tron: Legacy and Guardians of the Galaxy, and his award-winning narration of the national bestseller, The Dorito Effect.  As a theatrical director, he has recently directed award-winning productions of Green Day's American Idiot, Silence! the Musical, and Hedwig and the Angry Inch.
Chris is a caffeine addict, cat dad, roller coaster nerd, and 100% Pisces. He is also a newly-relocated resident of Los Angeles, CA!
Follow Chris on social media!
Instagram – chris_patton_again
Twitter  – @chrisdpatton