Digital Lizards of Doom are back at Fangaea!

Digital Lizards of Doom is an electro-folk band and brand from San Diego, CA. The duo consists of Gabriel Valentin (guitar, vocals) and Gallie Fisher (mandolin, vocals.) The band's theme and lyrics revolve around a fictional universe from their original graphic novel of the same name ("Digital Lizards Of Doom") a comedic and self-aware series which pays overwhelming tribute to the classic science-fiction, fantasy, and kaiju genres. The story is based around an ancient evil robot and a newly appointed lizard monk who fight for the future of technology and galactic peace.
The Digital Lizards of Doom brand was put on global display in the September issue of Forbes magazine, when Darryn King interviewed lead singer Gabriel Valentin in an article entitled "Why Digital Lizards Of Doom Are Your Gloriously Geeky New Favorite Band" (Darryn King, Forbes Magazine, writer/editor.) Their debut album, Lizards and Labyrinths, sold 25,000 copies worldwide and the graphic novel is set to be released later this year (2019).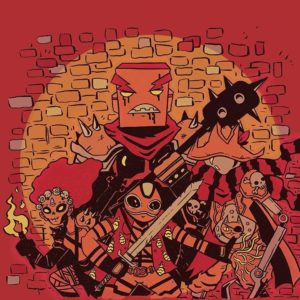 Follow them at:
The Digital Lizards of Doom are performing on Sunday