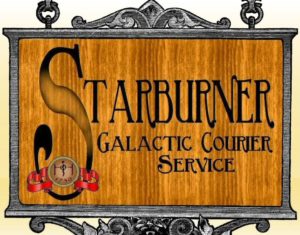 Starburner Galactic Courier Service is a San Diego based makers guild. We focus on creating props for exhibits and installations centering around science fiction/fantasy themes colored with the imaginative world of steampunk. Our work encompasses a wide range of genres and subjects such as Star Wars, Doctor Who, Harry Potter, Jules Verne, H.G. Wells, Victoriana, Steampunk, Dieselpunk and more. Our talented team specializes in everything from miniatures to costumes and accessories to full scale flying machines. And that's just scratching the surface! We don't just create an exhibit, we create an adventure!
Catch them discuss the creation of an Victorian Style X-Wing Fighter (the Cornu-Chi). Panelists Miguel Capuchino, Jeb Haught, and Harvey Nickerson will discuss the creation of the fully interactive Cornu Chi from concept to finish craft.
See photos below of the Victorian Style X-Wing Fighter (the Cornu-Chi)!
Follow them at www.facebook.com/StarburnerCouriers and check them out at www.starburnercouriers.com